Employment Tips




Welcome to After Placement, we give advice and assistance including how to find a job, writing job resume, job search tips, women working help and all the resources you need for a successful job search.


Employment Tips and Articles


Acing the Interview
You've just landed an interview for a seemingly wonderful job! Now what? Successful interviewing will be essential in order for you to lock in an offer. Here are some tips and strategies for effective interviewing from preparation through follow up.


Behavioral Interviews
Does past performance predict future success? Proponents of behavioral interviewing agree that it does. Be prepared to respond with details, actions and results when participating in a behavioral interview.

10 Steps to a Killer Resume
Need resume tips? Guest Author Louise Fletcher shares her resume writing tips and suggestions for writing killer resumes.

Resume Writing Tips
Renowned career author Joyce Lain Kennedy shares tips and suggestions for writing a perfect resume - simply and easily.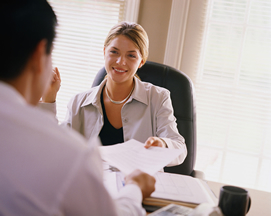 It's always important to make sure you have covered all the bases when you are in the midst of a job search. Sometimes we get so focused on one aspect of seeking employment, like sending out resumes, for example, that we forget to make sure that everything we do is professional, focused and appropriate. Review these ten tips to make sure your job search is on the right track. [view 10 steps]

Women Working
Women in the Workplace
Job training for Women
Employment Opportunities for Women
Women Working at Home